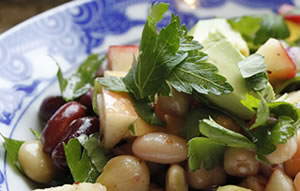 Serves 2
Ingredients:
4 x 3oz Alberta lamb medallions, cut from loin or leg
1 Tbsp olive oil
1 Tbsp liquid honey
1 tsp. soft green peppercorns, crushed
¼ cup sliced fresh apricots (can substitute dry)
1 Tbsp liquid honey
¼ cup stock or water
Salt & pepper to taste
Method:
Heat the oil in a 10" non-stick skillet. Season the lamb and add to the pan. Sauté lightly until brown on both sides then remove from the pan and keep warm.
Add the peppercorns, honey and apricots to the pan. Pour in the stock and stir to remove any bits form the bottom of the pan. Simmer for two minutes (or until apricots are tender), return lamb to pan and coat with sauce to re-heat.
Portion lamb onto plates, spoon apricots and sauce over top and serve.
Recipe courtesy of Phil Joy