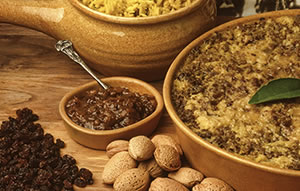 Serves 4
Ingredients:
1 large slice bread crusts removed
300ml/.5 pint milk
25g/1oz butter
1 onion finely chopped
1 dessert apple peeled cored and chopped
1.5 teaspoons curry powder
1 tablespoon mango chutney
25g/1oz flaked almonds
15g/.5 oz seedless raisins
1 tablespoon lemon juice
450g/1lb minced cooked lamb
salt & fleshly ground black pepper
2 eggs beaten
few lemon line or orange or bay leaves
parsley springs to garnish
Method:
Soak the bread in the milk and grease a medium sized pie dish.
Heat the butter in a saucepan, add the onion and apple and cook for 5 minutes. Stir in the curry powder and continue to cook for 5 minutes. Add the chutney, almonds, raisins and lemon juice.
Squeeze the milk from the bread and add the bread to the lamb, reserving the milk. Fork the bread into the meat and season generously. Add the curried mixture and combine well.
Place in the pie dish and cook in a moderate over (180C, 350F, Gas Mark 4) for 15 minutes.
Meanwhile mix the eggs and reserved milk together. Season to taste and pour over the meat mixture. Top with the leaves and bake for a further 45 minutes or until the top is set and lightly browned.
Garnish with parsley sprigs and serve hot with rice and a tomato salad.