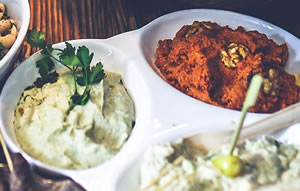 Ingredients:
2 lbs. Boneless Alberta Lamb Sirloin or boneless leg
Olive oil
Pinch of ground cumin
Pinch of paprika
Salt and pepper
1 large ripe tomato, sliced
1 roasted red pepper, sliced
1 sweet onion, sliced
Baby leaf lettuce
Saffron Mayonnaise
1 cup mayonnaise
1 pinch Spanish saffron
1 tsp. chilli garlic paste (sriracha)
Method:
One day ahead mix, mayonnaise, saffron and chilli paste and place in a re-sealable bag and place in refrigerator.
Rub boneless lamb with olive oil, ground spices and season with salt. Place on preheated grill and cook until medium-rare. Cover and keep warm.
Spread mayonnaise on a split ¼ of baguette. Place leaf lettuce, then sliced boneless Alberta lamb on baguette followed by: Tomato, roasted pepper and onion slices. Garnish with additional saffron mayonnaise.
Recipe courtesy of Chef Darren Nixon